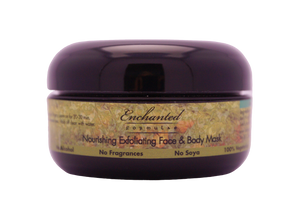 100% Vegetarian
2.0 oz (56 g)
To Nourish & Exfoliate Face & Body Skin.
This Mask is Honey & Honey product based. It contains green coffee and powdered seeds of Acai, Blueberry & Pomegranate that work to exfoliate the skin.
Used as a facial nourishment & exfoliator primarily, but works perfectly well on all body skin. Some Customers find it easier to use and wash it off before taking a shower or bath.
Facial use only normally yields 8 applications per jar.
APPLICATION: use the Mask at room temperature (70° – 75° F). Wash your face clean with soap and pat dry. Stir the Mask in the jar and with your dry fingertips apply a thin layer of it onto your dry facial skin from the hair line down to the chin area or lower if you so desire. Lay down for 20 - 30 minutes with a warm towel on your face and enjoy the quiet time 😊.
Wet your fingers and rub lightly the areas you would like to exfoliate. Wash the Mask off with water. Usually a thin layer of Facial Cream or Balm is applied afterwards.      
INGREDIENTS: BEE'S HONEY MASK BLEND, GREEN COFFEE BEAN, ACAI, BLUEBERRY & POMEGRANATE SEEDS, ASPEN BARK, ORGANIC ESSENTIAL OILS MASK BLEND.