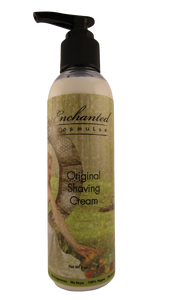 100% Vegan
6 oz (170 g)
This Shaving Cream is very slippery and very rich with nutrients which leads to super easy shaving and supple, velvety skin at the end, even on the most sensitive skin. With this Cream there is no pre-treating the skin and no after-shave is required.
When you apply this Product some of it penetrates top layers and produces protection from within, the surface of the skin stays very slippery. The shave is quick and effortless. In the end all you have to do is to rinse your skin and admire the results!
Though this Cream has our soap in it, it is very delicate and works wonderfully for women's body shaving, or on dry, sensitive, damaged skin, or skin afflicted by Acne, Rosacea and Eczema.  
Essential Oils are added for its' delicious, clean scent satisfying the most demanding noses.  
APPLICATION: coat your DRY skin with Cream, shave with razor. Rinse with water.
INGREDIENTS: HERBAL HYDROSOL SHAVING CREAM FORMULA, ALOE VERA JUICE, SOAP SHAVING CREAM FORMULA, SHEA BUTTER, HERBS INFUSED GRAPESEED OIL, ECO MULSE™*, KAOLIN CLAY, ASPEN BARK, ORGANIC ESSENTIAL OILS BLEND.
* ECOCERT CERTIFIED FOR USE IN oRGANIC PRODUCTS