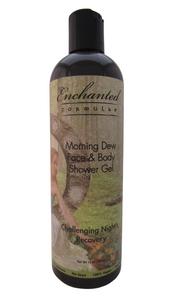 100% Vegan
 13.0 oz (369 g)
 - if your body & mind naturally lacks drive and speed in the morning;
- if you are looking for an energy boost, blood rush and better focus;
- if your boozy party last night was a bit too much;
- if hot flashes and hormone related chills bug you…
These Morning Dew Wash & Lotions are aromatherapy as well as skincare products.
They are designed to be a "picker-upper" for people who suffer from temporary or constant jet-leg feelings due to anything from low energy and hangovers to hormone-related hot flashes and/or chills.
These items are also very good skincare preparations for people who suffer from headaches, nausea, lightheadedness. The smell is very specific; highly spicy and earthy with a sweet, sharp, herbal background.
APPLICATION: Shower Gel is great for Showers and you may also try taking a soaking Bath with it.
In the Shower, pour a tablespoon of Gel onto a wet washcloth or use hands. Take your time and rub the skin thoroughly while inhaling its' aroma at the same time.
For taking a Bath, dissolve 1 – 2 oz of Gel in warm water and soak while breathing deeply. Rinse with water.
INGREDIENTS: SAPONIFIED OLIVE, AVOCADO, CASTOR & SUNFLOWER OILS,  HERBAL BLEND MORNING DEW FORMULA, CITRIC ACID, ESSENTIAL OILS BLEND MORNING DEW FORMULA.