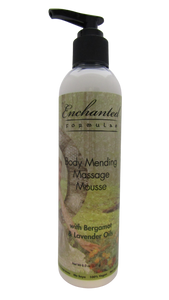 100% Vegan
8 oz (227 g)
Suitable for any type of body massage this Mousse is very slippery and comfortable to work with, highly hydrating and non-greasy with the smell of Lavender.  
This Massage Mousse is also very useful for people who deal with minor sprains, stiffness, aches and pains of muscles and joints because its' formula is largely based on our SoothMeJoints Balm.  
APPLICATION: use a few pumps to start the massage, pump more if needed.
INGREDIENTS: HERBAL HYDROSOL SOOTHMEJOINTS FORMULA, MANGO BUTTER, HERBS INFUSED GRAPESEED OIL SOOTHMEJOINTS FORMULA, OLIVE OIL EXTRACT, ECO MULSE™*, ASPEN BARK, BERGAMOT & LAVENDER ESSENTIAL OILS.
*ECOCERT CERTIFIED FOR USE IN ORGANIC PRODUCTS