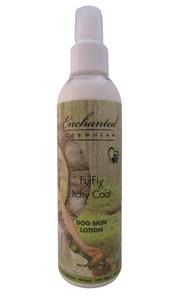 100% Vegan
6.0 oz (170 g)
Sensitive, Itchy, Allergic, Dry, Flaky, Irritated Skin Relieving Lotion 
A healthy & clean dog coat is not just their cuteness through which we see our four-legged babies. Because of the animal's activities their skin & fur must always be in tip-top shape to be able to protect the animal against a plethora of pathogens which they are in contact with on a daily basis.  
Whether salon or home wash, the biggest mistake owners often make is using human skin care on their dogs, and/or animal products loaded with synthetics and alcohols. Both lead to damaging the dog's skin (and fur) by dissolving the skin's sebum thereby depleting the defense mechanisms of the animal's skin and causing various symptoms like itching, sensitivity, dryness, flakiness, discolorations to name a few.  
To make life easier for all moms, dads and their furry kids, we now offer FurFix Itchy Coat Dog Wash, Dog Bar Soap and Dog Lotion. The product, naturally, is absolutely devoid of any chemicals or alcohols, but it is also formulated specifically for dogs and their sensitive skin!  
DOG SKIN LOTION APPLICATION: applied onto the dry skin for the best results. Separate the fur with one hand and pump the Lotion directly onto the dog's skin. Rub gently for the skin to absorb. Re-apply as/if needed. The smell of the Lotion is lightly lavenderish.    

INGREDIENTS: HERBAL HYDROSOL FURFIX ITCHY COAT FORMULA, ALOE VERA JUICE, KOKUM BUTTER, MANGO BUTTER, SHEA BUTTER, HERBS INFUSED GRAPESEED OIL BLEND FURFIX ITCHY COAT FORMULA, APRICOT KERNEL OIL, AVOCADO OIL, CHIA SEED OIL, ECOMULSE™*, ASPEN BARK, LAVENDER ESSENTIAL OIL.  

* ECOCERT CERTIFIED FOR USE IN ORGANIC PRODUCTS