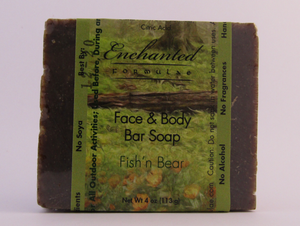 100% Vegan
4.0 oz (113 g)
This Soap is for all of our outdoorsy People. For gardeners, fishermen, huntsmen as well as for all people that work outdoors!
This recipe is packed with Essential Oils and Herbs unloved by all kinds of bugs and mosquitoes, so it is beneficial to use it before you leave to go outside. Afterwards, take a shower using this Soap and it will calm your skin, relieve itches, rashes and overall skin stress.
For men, it is a wonderful idea also to wash your hair using this Soap; you will love how your scalp will feel, calm and itch free!
Fishermen and Huntsmen, worry not. This Soap contains no chemicals nor alcohol. You will not spook your prey; fishes and bears will think that you are just another bush…      
All our Soaps (bars and liquid) are cooked (not cold processed) and are made from scratch. They are comparable to triple-milled soap that is profoundly slow release and deliciously creamy.  Super gentle, hypoallergenic, non-drying, this easy rinsing Soap will leave you satisfied with the result and the process of washing.
APPLICATION: wet the bar soap and rub your skin with it; or apply the soap onto the wash cloth and cleanse your skin using the cloth; or soap it in your hands and wash your skin using hands. Rinse with water.   
INGREDIENTS: SAPONIFIED ALMOND, CASTOR, OLIVE, PALM KERNEL OILS & COCOA BUTTER, HERBAL BLEND FISH'N BEAR FORMULA, ESSENTIAL OILS BLEND FISH'N BEAR FORMULA, CITRIC ACID.