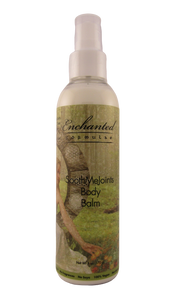 100% Vegan
6 oz (170 g)
Our Muscle & Joints Body Balm is for Customers who deal with minor sport related sprains, aches and pains, as well as for more chronic issues like arthritis or even pinched nerves. The age group for this Balm is from Kindergartners wearing Tutus to seasoned Seniors dealing with joint issues.    
This Balm is absolutely clean of any chemicals, man-made ingredients and even menthol. It has slight "root-y" scent to it due to a large number of various Herbs but basically is scent free after application. There is no skin burning or itching even with the most systematic use.
Some Customers use this Balm once a day before bedtime; some apply 3 to 5 times a day especially during acute flareups.
APPLICATION: apply 3 to 4 pumps at once onto the affected area. Gently rub or massage the skin until Balm is fully absorbed by the skin (about 10 minutes or so). Also, fantastic idea to be applied during body massages!
INGREDIENTS: HERBAL HYDROSOL SOOTHMEJOINTS FORMULA, ALOE VERA JOICE, SHEA BUTTER, HERBS INFUSED GRAPESEED OIL SOOTHMEJOINTS FORMULA, ECO MULSE™*, ASPEN BARK, ESSENTIAL OILS BLND SOOTHMEJOINTS FORMULA.
*ECOCERT CERTIFIED FOR USE IN ORGANIC PRODUCTS