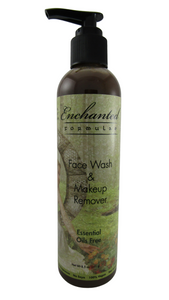 100% Vegan
8.5 oz (241 g)
For Normal to Highly Sensitive Skin. 
This Face Wash & Makeup Remover is for people who are sensitive or allergic to Essential Oils. Essential Oils Free but is packed with Herbs with light, fresh, earthy smell for every day face washing and makeup removing.
It is non-drying, mild and hypoallergenic formula but highly effective to clean the skin of dirt, makeup and oils. Appropriate for Teens as well as Maturing and Aging skin; oily or dry skin type.
It smells herby; like walking into the hey burn on the hot Summer day. The smell of hot, dry grass. 😊
APPLICATION: apply the Wash onto your dry or wet facial skin with your hands. With a splash of lukewarm water, work the Wash into bubbles. Rinse well and pat dry.      
INGREDIENTS: SAPONIFIED OLIVE, AVOCADO, CASTOR & SUNFLOWER OILS, COCOA BUTTER, CITRIC ACID, HERBAL BLEND FORSENSITIVEME FORMULA.