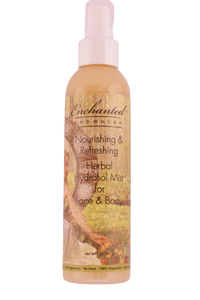 100% Vegetarian
7.0 oz (201 g)
To Seal in the Moisture, Nourish & Refresh the Skin.
This Herbal Hydrosol formula along with Bee's Honey have a lot of delicious nutrients to offer to the face & body skin. Often used right after bath or shower to seal in the moisture, it is also useful during a hot day to refresh and to neutralize the salt that sets on the surface of the skin. Essential Oil of Geranium smells delightful, is one of the best anti-aging essential oils, and sun-safe for your beach or pool trips.
APPLICATION: mist onto patted-dry face & body skin. Do not wipe off! Allow to absorb and to dry out naturally. Apply as needed or wanted.

INGREDIENTS: HERBAL HYDROSOL BLEND WITH BEE'S HONEY NOURISHING & REFRESHING FORMULA, GERANIUM ESSENTIAL OIL.
*ECOCERT CERTIFIED FOR USE IN ORGANIC PRODUCTS